Welcome to Kazan!
Dear Guests!
You`ll never regret if you decide to visit Kazan city. Kazan is a big and multicultural megapolis which is located in the Eastern part of Europe at the junction of the Volga river. In my opinion and in the opinions of many people who have have already visited Kazan it's the most beautiful city at least in Russia. Kazan is the capital of Tatarstan republic. Here in Kazan city where are few cultural monuments from the list of UNESCO World Heritage. Kazan is the city with the great culture!
In 2005 Kazan celebrated its millennium jubilee. More than 1000 years are connected with the Great Bulgaria and Kazan city`s nowtime great history. Kazan was a center of trade, transport and travel for ages.
Legendary Silk way was cross through the Kazan. As the result many nationalities, ethnics and different cultures, religions and traditions were mixed here. They still live here in peace and friendship. Here in Kazan you can find ways and trends in architecture, art, music, theatre, ballet. I`m sure everybody will find something special for yourself here!
Old Kazan city panoram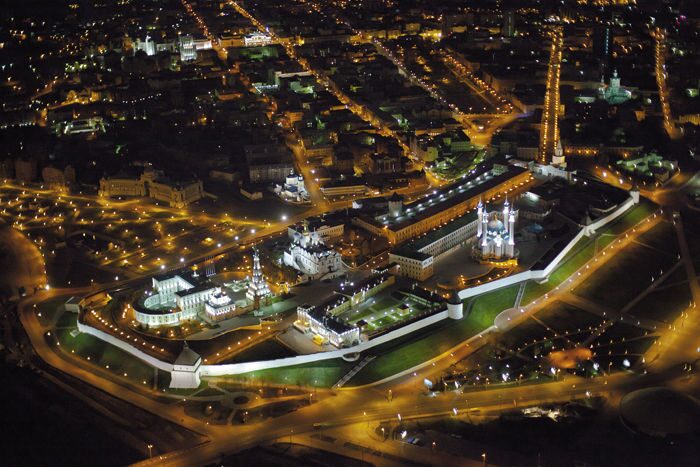 Old Kazan city panoram night view
The Kazan Kremlin and the mosgue Kul-Sharif
Over the past few years the World University 2013, the Water Sports Championship 2015 and the FIFA Confederations Cup 2017 have successfully passed in Kazan. Now we are looking forward to meeting with the World Cup Russia 2018.
The 27th World University Summer Games in Kazan was first Universiade, and even more, the first high-profile multi-sport event in the history of modern Russia.
After the Kazan Universiade 2013 here successfully passed FINA 2015 World Championship. The 27th FINA World Championships that had been held in 2015 summer in Kazan were named the best event in the history of the International Swimming Federation FINA.
The 2017 FIFA Confederations Cup was the 10th FIFA Confederations Cup, a quadrennial international men's football tournament organised by FIFA. It was held in Russia as a prelude to the 2018 FIFA World Cup.The matches were played in four different stadiums across four cities: Saint Petersburg, Moscow, Kazan, and Sochi.